On July 10th, 2022, Sunday Streets SF will open up the streets of the Mission for an afternoon of fun for the whole family. Taking place on Valencia Street between Duboce Ave and 26th Street, neighbors and visitors alike will have over a mile of car-free streets to enjoy.
Additional support provided by the following corporate exhibitors:
Xfinity

NORTH HUB
Activity Highlights
Mission Housing Block Party at Valencia Gardens with the Circus Center, Pickup Soccer Drills & SFDPH Mobile Vaccine Unit · Hula Hoop & Chalk Block hosted by SF Human Rights Commission · Freedom from Training Wheels Kids Bike Lessons by San Francisco Bicycle Coalition & SFMTA

Exhibitors
American Indian Cultural District · BSA Golden Gate Scouts · Candlestick Point State Recreation Area · Children's Day School · Circus Center · Little Mission Studio · Mission Neighborhood Centers/Children's Services Campuses · Mission Housing · Rising Sun Center for Opportunity · Safe and Sound · San Francisco Bicycle Coalition · San Francisco CASA · San Francisco Human Services Agency FCS · San Francisco Public Works · San Francisco Unified School District · San Francisco Youth Commission · Seedling Kids Dentistry · SF Bicycle Coalition Education Fund · SF Human Rights Commission – Chalk & Hula Hoop Block · SFUSD Shared Schoolyard Program · St. James Catholic School · Sunday Streets Info & Volunteer Booth ·  Xfinity & Rest Station & Kids Zone
SOUTH HUB
Activity Highlights
Free Bike Rentals by Bay Wheels · Free Rock-Climbing Wall by SF Recreation and Parks · Free Health Screenings · SF Public Library Mission Branch Open House with Reading Hours · Bumping Bellies: Dance Parties for Toddlers and Pregnant People hosted by Natural Resources · Marketplace Featuring Local Arts, Apparel, and Jewelry Vendors
Exhibitors
Alcoholics Anonymous · Bay Area Air Quality Management District · Bay Area Cancer Connections · Bay Wheels · BFF.fm Community Radio · California Black Health Network · Canopy Health · Cleary Bikes · Community Boards SF · Community Living Campaign · Evolve California · Galería de la Raza · HeadCount  · Lotusland SF · McGee Air Services · Mental Health Association of San Francisco · Mission Loteria · Moms Demand Action for Gun Sense · Narcotics Anonymous · NICOS Chinese Health Coalition · Noisebridge Hackerspace · Kadampa Meditation Center San Francisco · Pacific Rowing Club · Parents for Public Schools of San Francisco · Party for Socialism and Liberation · Psyched Radio · San Francisco Department of Elections · San Francisco Department of Environment · San Francisco District Attorney's Office, Victim Services Division · San Francisco Suicide Prevention · San Francisco Transit Riders · San Francisco Recreation and Park Department · SFMTA · State Farm · The Colores Painting Co Inc · The New Mission Yoga · The Port of San Francisco: Waterfront Resilience Program · The Urbanist SF · Tina Del Mar Acupuncture · UCSF · UCSF Memory and Aging Center – Community Outreach Program · Zuckerberg San Francisco General Hospital

Retail Vendors
Aleaf · Art-IdeaSF · Belle Noire Accessories · BlendAR Babez Brand · Colibrí Creations · DEEPTHAWTZ Studios · Dive Into Divinity Crystals · Double Down Zine · Jewels Dela Soul · Kryslee Skin Care Line · La Jefa's Artesanías · LV Creations · Pezzy Pets · Skylar'z SkinKare · Val's Hosiery · Xclusiv Territory 
BRICK & MORTAR ACTIVATIONS
ABADA Capoeira San Francisco · City Art Cooperative Gallery · City College of San Francisco & Faculty Union AFT 2121 · Fingersnaps Media Arts · Natural Resources · Saint Pigeon Band at Harrington Galleries · San Francisco Public Library – Mission Branch · The Marsh: A Breeding Ground for New Performance · The New Mission Yoga  
DETOURS & PARKING CHANGES
TOWING:
On July 10th, 2022, the following streets will be towed of vehicles beginning at 6:00am and no parking or stopping will be allowed after 8am:
Valencia Street from Duboce Ave to 26th St
DETOURS & LOCAL ACCESS:
Streets close to vehicle traffic starting at 10:00am, and remain closed to vehicle traffic until 4pm.
If you need vehicle access to/from your home or place of business during this time, please contact us as early as possible. Email SundayStreets@livablecity.org or call 415-344-0489 to coordinate access.
Getting There
The Mission is one of the most transit-rich neighborhoods in San Francisco. Livable City strongly encourages biking, walking, or taking public transportation to get to Sunday Streets. Attendees are strongly encouraged to bike, walk, or take public transportation to get to Sunday Streets.
MUNI: For trip planning and other Muni-related info, go to sfmta.com. Visit sfmta.com/alerts the week before the event for updated information on any MUNI lines that will be rerouted during the event.

The Mission Sunday Streets route is served by the following MUNI lines: K, L, M, T and F lines on Market St, just 1/2 a block north of the route J line on Church St stops at 18th St, just 2 blocks west of the route. The 22, 33, and 48 provide access to Valencia St, along with the 14 and 49 lines one block away on Mission St.
BART: Take BART to the 16th St or 24th St BART Stations. Both are just 1 short block from the Sunday Streets route on Valencia St. For trip planning, go to www.bart.gov.
BIKE: Get in the Livable City spirit and bike to Sunday Streets! Go to sfbike.org to download a bike map to help find a flat, bike-friendly route from your area or the nearest transit stop to Sunday Streets. Got a long way to go? Shorten the trip by taking transit part of the way. Muni buses have bike racks for 2 bikes, BART and Caltrain both allow bikes on board. For more information about bikes on BART, visit: bikes on BART. 
CAR: Should you choose to drive, be aware that the Sunday Streets route is towed of all vehicles beginning at 8am and no stopping or parking is allowed on the streets after that (even if you're just stopping for a moment for a cup of coffee), and no vehicles are allowed to drive onto the route after 10:00am. Should you choose to drive, check out SFPark.org and parkme.com to identify available parking lots and spaces nearby. Additionally, parking may be available at these locations near the route: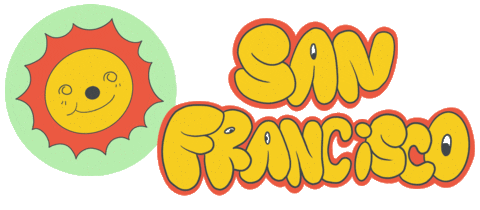 Additional support provided by the following corporate exhibitors:
Xfinity